My name is Jolene (also known as Jojo). Flowers have been a part of my life since I was a child. My beautiful mother is a masterful flower gardener and designer. I live in Lancaster, Pennsylvania where I am an oncology nurse by day and a gardener and candle maker by night. I love container gardening which is a necessity when you have a small space. I find peace and healing by gardening in containers. I call it my "pollution therapy".
Most of the photos I take are inspired in the moment. Don't get me wrong – I take planned photos, but the most beautiful ones are inspired by the feeling that is evoked in that moment.
This is my muse in the summer and I change her hairstyles over the summer. I love this lemon coral sedum (Sedum mexicanum 'lemon coral', zones 7-11 or annually). I change her hairstyles all summer. I also like the way the shadows are in this photo. I had to take a few photos before the lighting changed.
This is Percy, our beautiful boxer – and a flower garden muse too. On my days off she waits at the door while I make my coffee and then leads me to our flower harbor.
Our steps take a little work. Right now we've made them quirky by planting chickens and chicks (Sempervivum, Zones 4-8) in the cracks in the concrete.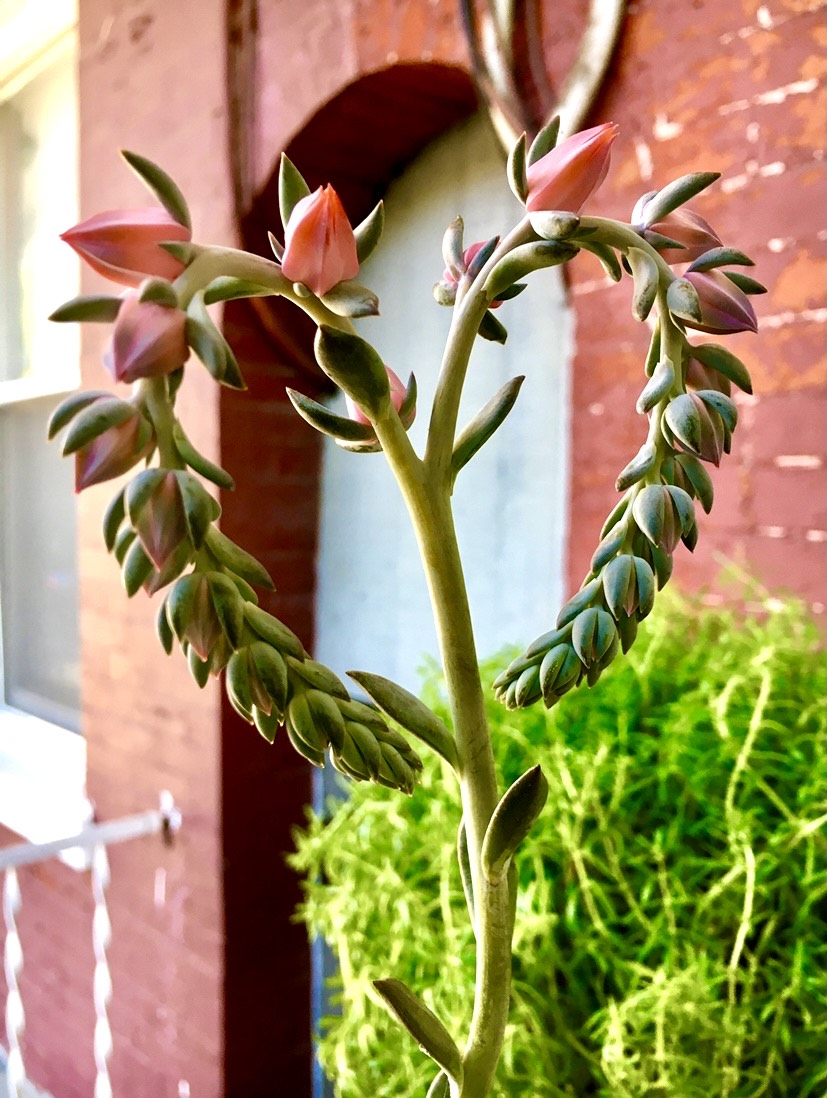 This was a nice surprise one morning that stopped me. I am not entirely sure if this is typical. (Editor's Note: This appears to be the flower tip of an Echeveria. Some species often flower in this general shape, but the perfect heart that made this one is special and beautiful!)
We live in a row house in Lancaster, Pennsylvania. Our house is the only one on the block with a garden display. I won the Lancaster City Prettiest Porch award in two years. I love it when people stop and take pictures. Last year some people asked if they could take photos of their children next to the flowers. This photo is from June 2020.
This is one of several braided hibiscus (Hibiscus rosa-sinensis, zones 9-11 or yearly) that my lovely mother bought for me. I put them in containers and planted them with creeping jenny (Lysimachia nummularia, zones 3–9). This flower brought me months of joy. I have never seen this type of hibiscus before.
The beauty of spring on a morning walk.
I love using unconventional planters like this chicken feeder. My mother gave me a handful of sedum from her garden. I now have an ample amount to share with friends and neighbors.
You can make beauty out of broken things. I used some crawling jenny to plant over the crack in the terracotta.
I am a candle maker with a small business. I use flowers from my garden to particularly surprise my customers.
Do you have a garden that you want to share?
Do you have photos to share? We'd love to see your garden, a specific collection of plants that you love, or a beautiful garden that you got to visit!
Submit 5-10 photos to for submission [email protected] along with some information about the plants in the pictures and where you took the photos. We'd love to hear where you are, how long you've been gardening, successes you are proud of, failures you have learned from, hopes for the future, favorite plants or funny stories from your garden.
If you want to send photos to the GPOD email box in separate emails, that's fine.
Do you have a cell phone? Tag your photos on Facebook, Instagram or Twitter with #FineGardening!
You don't have to be a professional garden photographer – read our garden photography tips!
Have you already received the GPOD by email? Login here.
Receive our latest tips, how-to articles, and how-to videos sent to your inbox.